Hi guys;
I just started in my first GIS job after my MSc, and I'm the only GIS guy in the village so to speak - so forums like this will hopefully be my lifeline!
I've been charged with getting an ArcView 9.1 GIS our survey company was asked to build for a large house bulders here in Scotland. It's been basically mothballed for three years near enough due to the recession etc.
Basically, during that downtime there has been a server move and the file paths to all the data have changed.
There is a seperate .mxd project file and assosiated CAD files and assosiated legal documents etc for each of the sites this company owns, which is well into the hundreds.
All the data as I say now exists on a different drive and therefore the project files cannot locate the data.
Basically, I need to know how to re-assosiate the hundreds of different .dwg CAD files with the project view. I've attached this screenshot to show you what a typical project file looks like.
Double clicking each layer and manually browsing to the data path would take weeks to do all the files. I can't drag and drop the CAD files, this results in an error.
I can't 'Add Data' as while this DOES import the CAD drawings fine, it needs to be sorted out into points/lines/areas and named properly like in the above screengrab. I could do this manually of course but it would take days and days to re-sort things. The below photo is how the Add Data option brings in the drawings;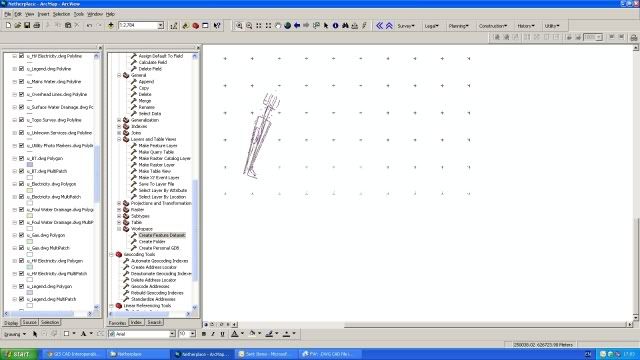 There must be a way of getting ArcGIS to know the new file paths without starting the project files over again and losing all the work that has been done...
The MSc is of little help so far!
Thanks so much, I desperately need some help on this one, even to tell me it can't be done or it needs a script written or somethig (I can't code to save myself, though I am learning!)
THANKS,
Murray